Hi. Have your sales hit a dry patch? 

This is normally the case this time of year when shoppers have exhausted their holiday-through-Valentine's-Day gift funds. Many are already focusing their budgets on Spring Break vacations and planning family trips with the kids. Most are not planning on any type of gift spending or personal indulgences. Which brings us to an important topic—what can you as a retailer do to drive sales during this commonly low-sales period? 
Sunsplash Media Group has a focused system for strategically increasing sales throughout the year which can easily be used during these notoriously dry sales months. 
3 Suggestions to Help 
1 – Use this slow period wisely 
Spend a portion of your time now to streamline your ordering processes. Often, ordering products can include several people, numerous approvals, and a lot of time. An order received on Monday morning can take up to 3-4 days to process and ship once it's gone through your current process. 
Now is the time to home in on possible time delays in your ordering process and try ways to speed things up by having a smart system in place. 
                Tip: Send out a survey to your customers asking for what their ordering frustrations are and their suggestions for improvement.   
2- Arm your customers with what they need to succeed 
When sales are down across the board everyone suffers. One of the best ways to grow your own product sales is to increase your customers' sales of your items. 
Identify reasons why consumers would need to purchase your products and then put together a targeted sales/marketing plan to address those reasons. Arming your own customers who sell your products with this valuable information can help them sell more. Additionally, feeding this information to consumers via strategic content can pull purchasers toward your products. 
                Tip: Push vs. Pull Marketing. Instead of using all your resources to push your marketing/sales materials out, it can be more effective to pull consumers toward your products with timely content that educates and solves their concerns. 
3- Content marketing can be a powerful tool 
While they used to be called blogs, they've been honed into keen sales tools with strategic content and are now called editorials and online magazines. Guest writers and wellness topics grace these pages that are now SEO-heavy and curated to drive specific responses from readers. 
A study by the Halverson Group found that "blog" posts have a lifespan of 700 days. These online written resources can be used to drive sales for years after they're published and promoted. 
                Tip: Use the right type of keywords (branded, generic, transactional, etc.) that match your buyers' journey in content articles in order to increase your Google search rankings and promote link-sharing and re-posting. 
Overall, there are smart ways to help your customers and increase your sales during the slow months of 2020. Sometimes a cohesive action plan is all that's needed to make a big difference.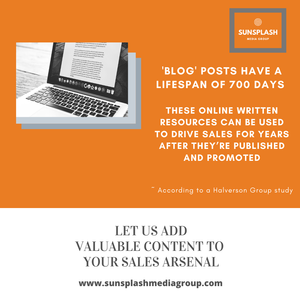 Wrap Up 
Use the next few months to put effective ordering/shipping systems in place, push resources and pull consumers toward your products, and add valuable content marketing to your arsenal. You'll be surprised how profitable this slow season can be.
Cheers! 
Sunny